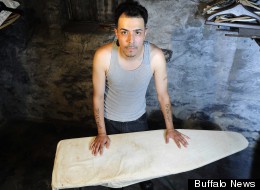 When Nick Miranda began clearing the clutter in the basement of his new home, he likely expected to clean cobwebs and dust, not come across a stack of savings bonds.
"He's a very, very honorable young man,"
Ortalano, 57, told the Buffalo News
. "I won't ever forget him. Not because of the monetary value, just for the honesty of it, just for doing the right thing. Anyone else could have torn them up and thrown them out."
Miranda is just one a few recent "honest" finders who decided not to keep the goods they discovered.
"We decided if we'd lost our wallet, we would want somebody to return it," Kaylee Olson, 14, told the news outlet.
The youngsters, who admitted to feeling tempted to keep the loot, didn't go unrewarded, though. The grateful owner, who works at an ice cream shop, gave them each free ice cream.