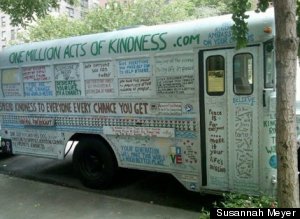 Recently, walking through the streets of the upper east side of Manhattan, I spotted the One Million Acts of Kindness bus parked near the sidewalk. Bob, the creator of One Million Acts of Kindness, had a dream to instill a goal, a sort of mindset, onto every person. His hope is for everyone to perform one million acts of kindness in their life and to keep up a mindset of kindness and compassion every day. Bob is a father of three kids in college and is simply concerned for the world in which his kids live and in which all kids will live. His goal is to create a safer, more caring world for generations to come. With this in mind, Bob bought a bus, had a bunch of family and friends help paint it, and began a 10-year journey with his dog and constant companion. With this message, Bob ultimately hopes to have kids believe that they can have an impact and that they themselves are part of the "Kindness Generation," as he puts it.
What Bob did, any of us can do. He took a simple, personal concern and hope, got involved and spread the message. So find a cause or your own concern or hope that's relevant to you, because if it's not relevant to you personally, chances are you'll be less passionate about it. Surround yourself with people or groups of people with whom you share mutual feelings and passions and get involved. Rally other friends who want to share your message to help you. It truly is that simple. If you have a goal in mind, however simple it may be, narrow your goal and take your actions.
It is understandable when people don't act upon their emotions, whether it's a feeling of injustice, a desire or a hope. People get to convincing themselves that the world is too big, that there are too many issues and that they are just one person. Well, it is true that the world is big, that there are many issues and that people are just people. But to say that one cannot have a significant impact on the world or on a community is a fallacy. One person, or two, or three, or four, can create changes and can make a difference. The scope of that difference, I believe, is what many people don't consider but involuntarily overlook. It is possible, but unlikely, that the difference you make will affect the world or the nation. Just because your impact may reach fewer people doesn't mean it is any less significant. In fact, to you personally, the impact may mean more if those you are helping are closer to you. You may affect a category of people (i.e. girls, seniors, children), a community, or just one person, but it still makes a difference nevertheless.
My focus on service has been to my community of New York City and to people like me. Here are a few examples. I volunteer weekly at Lenox Hill Hospital, which in turn helps sick patients in New York. When I can, I help refurbish the city in areas that need help by working with organizations dedicated to helping New York, like New York Cares, and by involving myself and my school in days dedicated to improving the city. This helps by reversing damaging effects of any disasters or tragedies that occurred in New York, like 9/11. If anything of the sort happens or has happened in your community, it's likely that there are at least a couple of opportunities calling out for volunteers. It's also likely that there is some push in your school toward community service. Join that group, force, club or board to get involved. In a school service effort, it's really easy to find something that your school promotes and to take action together. On the service board at my school, an all-girls' school, one of the topics we take action on is girls. Recently, we've been working closely with Girl UP, a campaign of the United Nations Foundation, to inform the rest of our school on girls' issues all over the world, to help promote girls' education and empowerment and to form our own Girl UP club. In addition, a few of us have started a farther-reaching Girl UP club, the New York Regional Coalition, to expand our reach and involve the larger community of New York. So it's also pretty easy to take action with one community and expand your actions.
Additionally, try targeting your age group to take a stand and get involved. Personally, I have started work with generationOn, a unique organization that inspires, equips and mobilizes youth to take action that changes the world and themselves through service. generationOn is a part of the global youth service movement igniting the power of all kids to make their mark on the world, and has tons of opportunities and resources one can use to get involved. I am working with them to initiate a new council of youth dedicated to service and leadership.
To conclude, taking action isn't as hard as you might have thought. Have a mission/goal/hope/concern/passion/feeling about an issue, a problem, a place, etc., that is relevant to you. Find other places, organizations or people who share this with you. Reach out to them (a "Contact Us" button at the bottom of a webpage is a good place to start!). Then, simply take it from there and figure out what it is you would like to accomplish, and get to accomplishing just that! Never use the excuse that something is just impossible. Take every task on thinking you'll succeed, and chances are, you will.